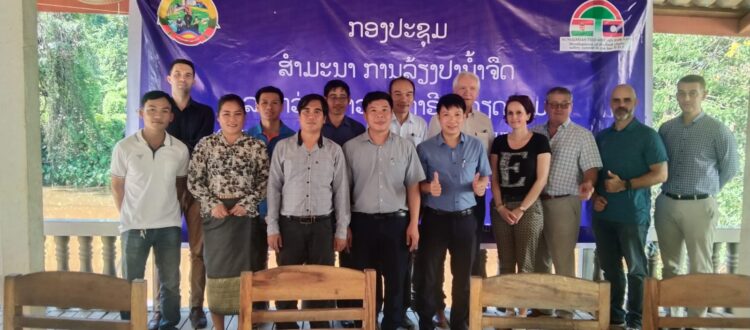 Laotian-Vietnamese-Hungarian Forum, 14-15th of November 2022, Vientiane
During the Laotian-Vietnamese-Hungarian Forum in Vientiane, János Szakáli of Vitafort held a presentation about the work and results of the iFishIENCi project. This was a high level event attended by Deputy Director of Department of Livestock and Fisheries of the Laotian Agricultural Ministry and the Vice Dean at the Faculty of Fisheries, Head Department of Aquatic Environment and fish diseases, of the Vietnam National University of Agriculture. We are very pleased for this opportunity to demonstrate the current works of the project in Laos and to increase the impact of the iFishIENCi innovations on an international scale, particularly in the growing aquaculture markets of Laos and Vietnam. Thematic presentations on  Fish value chain development, Production of sustainable fish feed using alternative protein sources, and Tilapia diseases and prevention strategies were also featured by other participants.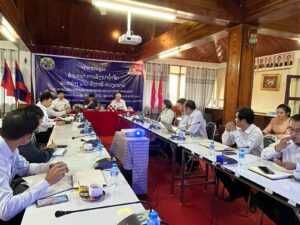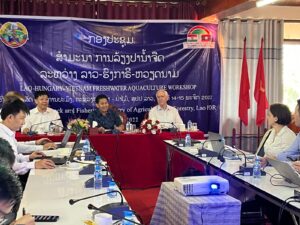 Aquaculture is one of the fastest growing food production sectors in the world that plays an increasingly important role in food supply in the coming decades. There are however challenges such as climate change, use of critical resources including water and energy, changing consumers demand, social and economic externalities. Most of the challenges are global in nature therefore the responses should be regional and inter-regional. There has been aquaculture collaboration between Hungary and Asian countries especially Laos and Vietnam within the framework of inter-regional collaboration between Europe and Asia. Previous efforts on this area provides a good basis to further develop inter-regional collaboration of which importance has never been as important as nowadays. This Lao-Hungary-Vietnam Workshop can contribute to strengthen inter-regional collaboration for the benefit of participating countries and the concerned regions.