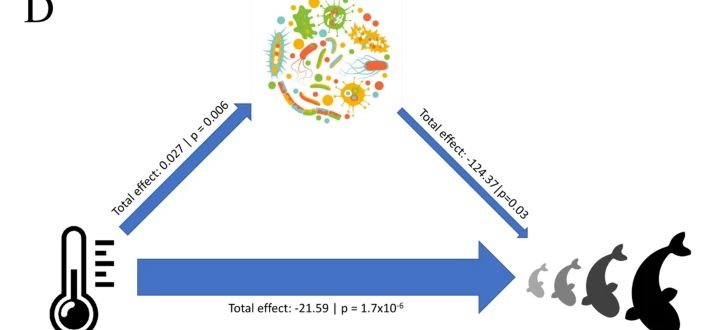 Mediterranean Sea heatwaves jeopardize greater amberjack's aquaculture productivity through impacts on the fish microbiota
A new iFishIENCi research article is now available. In 2020 partner Hellenic Center for Marine Research conducted temperature trials in RAS for Amberjack. Those trials examined physiological, metabolic and behavioral variables for the Big Data analysis of temperature effect. Samples for microbiome analysis conducted by Partner Leitat are providing excellent insights into future climate emergency impacts on food production.
"Climate change is dramatically increasing the frequency and severity of marine heatwaves (MHWs) in the Mediterranean basin, strongly affecting marine food production systems. However, how it will shape the ecology of aquaculture systems, and the cascading effects on productivity, is still a major knowledge gap. The present work aims to increase our understanding of future impacts, caused by raising water temperatures, on the interaction between water and fish microbiotas, and consequential effects upon fish growth. Thus, the bacterial communities present in the water tanks, and mucosal tissues (skin, gills and gut), of greater amberjack farmed in recirculatory aquaculture systems (RAS), at three different temperatures (24, 29 and 33 °C), were characterized in a longitudinal study" say the authors.
Congratulations to our colleagues Pablo Sánchez-Cueto, Orestis Stavrakidis-Zachou, Marc Clos-Garcia, Montse Bosch, Nikos Papandroulakis & Salvador Lladó on the publication and fantastic collaboration effort!