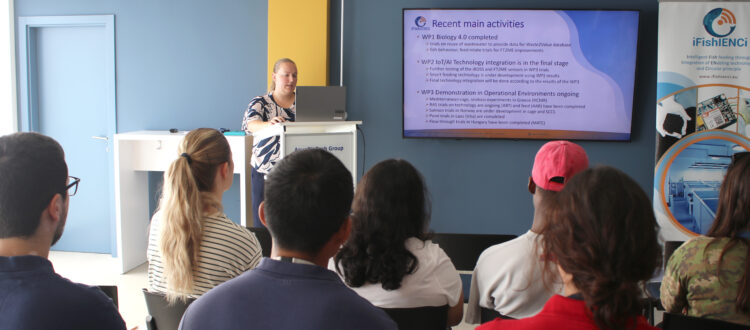 Local excitement for SmartRAS Demo
On the 24th of May, nine local and international aquaculture stakeholders from industry and education with interests in recirculating aquaculture systems (RAS) were present for the technical presentation, workshop and the tour to see SmartRAS technologies in action. Hosted at AquaBioTech group and featuring presentations from for of the project partners, including Sergei Budaev and Ivar RØnnestad (University of Bergen), Nicolas Prost (Bioceanor), Luc Gasser (EGM) and Giovanni Marco Cussimano (AquaBioTech Group) this demo event explained how the iFishIENCi technological tools were used to carry our feeding experiments on Atlantic salmon at the facility.
This is the latest in a series of opportunities for industry, researchers and students to engage with the SmartRAS technologies and see for themselves how this iFishIENCi iBOSS, FishMet and Fish-Talk-To-Me technologies have been integrated in recirculating aquaculture including Biology Online innovations and the Smart Feeding AI. In June 2022, Hungarian master students engaged in a two day training and workshop on SmartRAS and in December of the same year an online event was hosted to demonstrate how the SmartRAS had been adapted to support trials with African catfish.
Find out more about the event here.